Coastal Grandma Design Trend
Coastal Grandma is an interior design trend that started in 2022 but has regained its popularity through 2023 and now into 2024. Is Coastal Grandma new? No… Beach-inspired lifestyle has always been popular, but this current take is more modern and pared down than in the past and completely clear of themed decor, like shells, anchors, and whales. It's less nautical and more an airy, effortless chic that's informal but polished. Coastal Grandmother style is all about an approachable, comfortable, and attainable look, no matter where you live. It has also become popular with minimalistic lifestyle.
So, What Is Coastal Grandma?
Picture the tastefully-casual heroines of Nancy Meyers movies, like Diane Keaton in Something's Gotta Give, or Meryl Streep in It's Complicated, in all their neutral-cotton-sweater-and-linen-pants-clad glory. But did you know this pop culture revival moment is also related to a rising look in home decorating? Coastal grandma is a lifestyle sensibility, and a decor trend all rolled into one.
Look to start with a backdrop of white paint and then adding simple, functional furniture and accessories to obtain clean lines.
Choose a Neutral Palette and Pattern
Start with white, ivory, and cream colors. Layer in neutral tones borrowed from nature—stone, sand, sea, and sky. Tan, beige, taupe and greige, and pale watery blues. Introduce accent colors like deeper blues and shell pink with a light hand. Use little to no pattern, and keep it simple and abstract if you do. Refrain from decorating with on-the-nose beach décor like lighthouse lamps and beach signs.
Natural fibers like cotton and linen are the go-to choice for fabrics, from light, gauzy sheers to heavier twills and canvas. For accents, think touchable—chunky knits. seagrass baskets, throw blankets or pillows. Woods take their cue from driftwood—light, bleached and whitewashed. Hardware in metals like brushed nickel keeps the feeling soft and sophisticated.
Coastal Grandma Window Treatments
Gauzy window treatments and rugs in natural jute or faux natural fibers are a good way to ground the room with breezy color. A few carefully chosen coastal-inspired accessories can easily fit right into your home. Lush flowers always feel right.
Coastal Grandmother style is all about letting in as much natural light as possible—install lightweight drapes in semi-sheer linen or cotton that won't block the sun's rays and will billow in the breeze.
Naturally organic and beautifully hand-woven Natural Shades are an elegant way to incorporate the colors and patterns of nature into your décor. Crafted from sustainable materials such as jute, bamboo, wood, and grasses, they are both smart and green for unique, casual luxury and style.
Renewable materials like bamboo, reeds, grass, and jute add their natural color and asymmetric texture to Natural Drapes. The natural material is tightly woven into a stylish drapery that adds the colors and patterns of nature to your windows—including wide windows and patio doors.
Checkout different Natural Shades & Drapery using our custom Visualizer. For the first time, you can preview window treatments on your very own windows—with the new Graber Visualizer. Simply upload a photo, choose a treatment, and see how it looks in your actual space. Change colours, options, and more to find the best window treatment solution for you.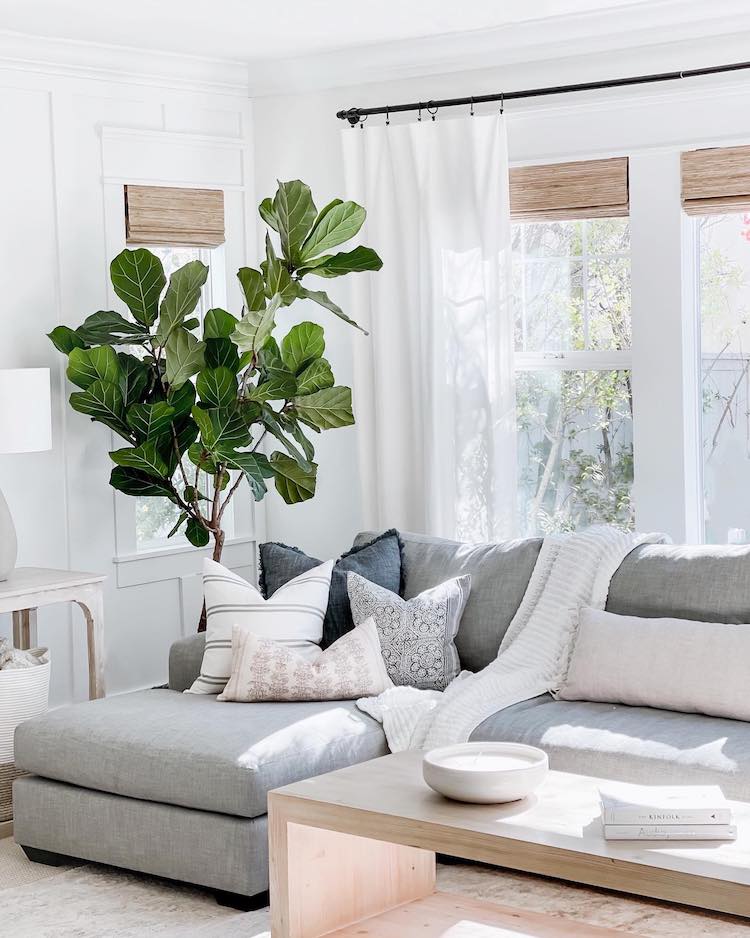 Add Architectural Elements
Moldings, wainscotting, and shiplap add a luxurious feel to plain white walls while providing an interesting layer to an otherwise simply decorated room. Without these elements, the room may feel cold and sterile but thanks to these architectural layers, the room instantly becomes a cozier space without adding unnecessary clutter.
Choose open shelving with easy access to entertaining pieces. Kitchens designed with open shelving have a two-fold benefit; It places handy platters and dishware on decorative display but also evoke that casual feel and easy to access feeling you are looking for.
A favorite of Coastal Grandmother decor is the ability to show off your stacks and stacks of books with custom book shelving. Part of the Coastal Grandma experience is the lifestyle choice of being able to relax, cozy up on the couch, and unplugging from the rest of the world.
Don't Forget The Outdoors
Ensure your Coastal Grandmother vibes are on-point on your porch, deck, and yard (even if you are not on the actual west or east coast, watching and listening to the ocean's waves).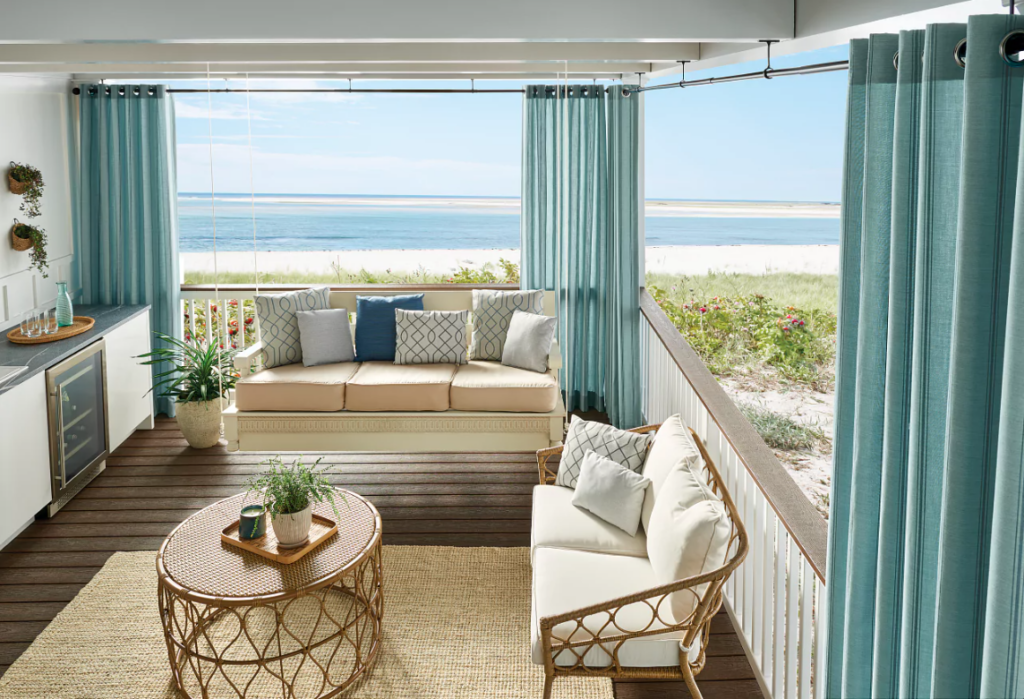 Indigo Blinds & Shades is a Graber Premium Partner.